Award-winning goldsmith Ríona Finn creates distinctive contemporary jewellery in precious metals with carefully selected gemstones, using traditional techniques and modern technologies.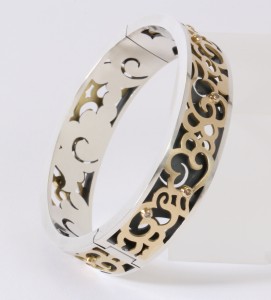 Ríona Finn graduated from Dublin City University in 2004 and 2006 with a first class honours BSc in Applied Computational Linguistics, and an MSc by thesis and research in language technology. While working in industry and academia in that area, she returned to a childhood love of crafts and enrolled in night classes in National College of Art and Design. Hooked on gemstones and the creation of fine jewellery, she decided to change career.
After completing the FÁS Jewellery Manufacturing Operative Traineeship, Ríona studied gemmology in Gem-A London, where she achieved an "A" in her Foundation Certificate in Gemmology. She has also studied diamond grading as part of her training on the Design and Crafts Council of Ireland's Jewellery and Goldsmithing Skills and Design Course.
She was awarded the 2016 Royal Dublin Society Emerging Maker Award of Excellence & California Gold Medal for her "Kumo" bangle.